Locksmith in Calpe Costa Blanca
Our Locksmith services in Calpe Costa Blanca:
▶ Open a door by a professional, a safe, a vehicle.
▶ Repair or install a lock, change a light bulb.
▶ Install a new lock, master the keys to your community.
▶ Repair or install a spring closes doors, an electric strike.
▶ Call us without thinking, we are locksmiths in Calpe for life. ❤
Keys put inside. One of the reasons our clients call us the most is because they have left the keys inside. Many times they tell us that before calling a locksmith they have tried to open the door with an x-ray or a credit card, normally the result is usually the same, useless credit card and / or scratched and half-broken x-ray.
If it is true that if you leave the keys inside, in most cases you can open the door with an x-ray, but it is also true that it takes a lot of skill and practice to get it.
Soon a cheap locksmith in Calpe will become the best ally of your home, business and even your vehicle when you need it most. Count on our team!
Anti Bumping Locks. Because of the Internet the Bumping method is becoming more and more known, if you do not know it yet, I will tell you that it is a way to open any non-anti-bumping lock in less than 5 seconds, simply with a screwdriver and a kind of master key, which you can buy on many internet sites.
Even the best lock brands out there, virtually every model that is a few years old, can be easily opened with this method. For this reason Eucar has adapted to this type of system and all the locks we install are anti-bumping. Even many security locks are capable of being opened with this method.
Ask about our types of locks, we also have high-end locks that are impossible to pick. Installing such a lock is the only way to be 100% protected, at least so that no one enters through the door.
If you do not want to waste time, the easiest and especially quick way is to call an urgent locksmith and it is inexpensive. We travel to your home in less than 20 minutes and we are the cheapest locksmiths in Calpe and Comarca. You can call us 24 hours a day, we are always available.
Impossible? Absolutely. When you contact the Eucar team, you will find that hiring the services of an economic locksmith in Calpe and Comarca is not a utopia. We are professionals in opening doors and changing locks without breaking. When you see the result, you won't even notice the change! The experience as a leading locksmith company in the province of Alicante has allowed us to know how to solve all kinds of repairs and installations with a professional and immediate result with maximum efficiency.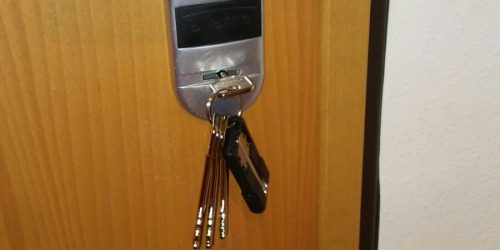 Eucar is your trusted Locksmith in Calpe Costa Blanca…
Armored Security Locks. We have trained personnel to work on locks or armored doors. Our technicians can assist you 24 hours in Calpe and Comarca, in the change or installation of an armored security lock. We work with the best brands, an internationally recognized brand for manufacturing high quality locks.
These locks are an interesting security solution for those who want to add extra security to the doors and locks of their home, since they have an armored design, which makes them very robust.
Despite the fact that their price is not the cheapest, we always advise our clients to try these types of locks, as they are very safe and today many people in Calpe are exchanging their cheap locks or light bulbs for these quality armored locks .
We have a number of special designs for the light bulbs or handles, so you don't have to worry about the appearance of your lock. There are several lines with different formats and colors that can be adapted to the design of your door.
☎ Call us at

+34654994481

or send us a ✉